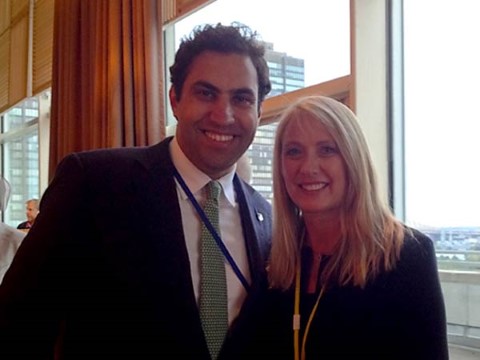 Kansas City, MO (October 3, 2014)
Children International was recognized last week at the United Nations MY World Partner Recognition Event and Awards Ceremony in New York City for the organization's efforts to include the opinions of the impoverished children and youth it serves in the MY World survey. These votes will help determine priorities for the global development process starting in 2015.
Children International has worked to make sure the children and youth in its programs have had a chance to share their opinions with the United Nations through the MY World survey. Young people have filled out the surveys online in Children International community centers in 10 countries. Children International staff and volunteers have also been assisting others with paper ballots.
Being able to share their opinions and concerns has meant a lot to the children and youth in Children International's programs. When Shabag, a youth from India, was asked about his experience with the survey, he said, "It certainly makes me feel important, and, moreover, makes me realize that there are some people out there who care about what and how we feel."
More than 5 million people in 194 countries have answered the MY World survey, making it the largest global survey ever. Thanks to organizations like Children International, youth participation has been overwhelming. The top three issues as of now are good education, better health care and better job opportunities. Add your voice to the MY World survey at myworld2015.org. The results can be seen at data.myworld2015.org.
Learn more about Children International's work around the world.