More about your child's schooling, water sources and home:
For families living in poverty, steady work is often uncommon. This means many parents of sponsored children work daily wage jobs such as farmers, housekeepers or street vendors. The income they earn can vary from day-to-day and some weeks can be more profitable than others.
What does "family income" mean?
It's a rough estimation of the income earned by the household for a typical month.
Does the number represent a day, month or year?
It's monthly and it's challenging to estimate due to the unstable nature of work for our sponsored families. Our staff works with the family to best represent a typical month of income for them.
Is it for one person or the entire household?
It's an estimate for the entire household the child lives in.
Typical sources of income for families in poverty

Farmer
For our sponsored families who live in more rural areas, farming, livestock, aquaculture and agriculture work is how they earn a living. In fact, more than two-thirds of the population in poor countries work in agriculture.* The life of a farmer is a labor intensive occupation, with long days spent in the elements. In Latin America, common exports are soybeans, pork, maize, poultry, animal feed, sugar, coffee, and fruits and vegetables.* For those living in coastal communities, like in the Philippines, many people rely on fishing, which is highly weather-dependent with earnings that can vary greatly.
Housekeeper
Many parents, especially mothers, of sponsored children are domestic workers. This can mean jobs such as being a housemaid, nanny or gardener. They typically work for more affluent families and hold a schedule of 7:00 a.m. to 4:00 p.m., but in some locations, laws permit workdays of up to 12 hours. Often without an education, domestic workers in our communities struggle to make even what would be considered a minimum wage, even though the duties they perform are critical to the function of a home for a wealthier person.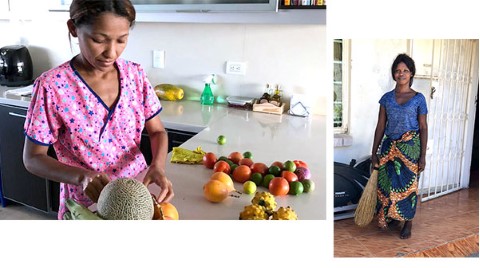 Construction worker
Through temporary contracts, some parents will pursue construction jobs such as woodworking or masonry. The income is irregular and the job isn't registered or insured, which increases risk when work becomes dangerous. Although there are sometimes free courses available to learn how to work with these types of materials (wood, upholstery, paint, brick) this is often self-taught and labor-intensive work with long hours and low pay.
Street vendor
When our families are most desperate and other work is hard to come by, some parents (and children/youth) in our communities take to selling goods they've made on the street. Snacks and drinks are common items for sale, along with handmade items such as jewelry, clothing and face masks. Some people are also known to invest their own borrowed money to re-sell items, or even try to sell their own belongings, like portable radio sets or kitchen utensils.