Education
fighting poverty by improving education
In many impoverished communities, children don't have the opportunity to receive an education. Some don't have resources like books or uniforms, leaving children to fall behind without the support to catch up. Youth drop out of school to support their families and never go back. And entire school systems are understaffed, failing to provide adequate education to the children who live there. Lack of education increases the likelihood of involvement in drugs, gangs and other risky behaviors. It's easy to see how an absence of education spirals into a cycle of poverty. When you make a gift to our education programs, you provide the resources, tutoring programs, computer/internet access and more, for children from kindergarten through high school and beyond.
Programs tailored to fit the need
Around the world, every community has distinct needs and suffers from its own set of obstacles. In Mexico, the saturated job market makes it difficult for uneducated adults to find stable employment. While in Zambia, one of the poorest places on Earth, poverty is so widespread that unemployment is a generational problem with lasting deficits. Our team assesses the conditions in every country we serve to create specific programs to help children overcome the challenges of their community and end poverty for good.
Let's talk about giving
If you're interested in making a major gift to Children International programs, please contact our Global Philanthropy team at 816-943-3834 or legacy@children.org.
How will your support help?
Children enrolled in our sponsorship program have access to the right mix of resources, based on location, age and life circumstances. What is sponsorship? Find out more


Here are some of the ways your support is used for education:

Providing the basics
What: Providing children necessities like uniforms, shoes and books so they can attend school with confidence.
Why: Even in the public school system, families are required to pay for their own uniforms, books, transportation and, in some places, tuition. As you can imagine, an already financially stressed family can't afford the additional cost of education, and children fall behind or drop out due to a lack of resources.

Scholarships
What: Awarding annual, renewable scholarships to attend vocational school, college or other higher education institutions.
Why: Scholarships break down barriers to education for children and youth. They not only help with the cost of schooling (tuition, books, transportation and more), but provide extra support through additional learning opportunities, guidance and accountability.

Education for parents
What: Working with parents, teaching them everything from how to enroll children in school to how to manage interactions at home.
Why: Parents in impoverished communities need help, too. They may have never been given the tools to support their children in school, and we're here to help however we can.

Tutoring
What: Offering tutoring for children who may be falling behind. Our tutoring sessions are conducted in groups with objectives that align to the national curriculum of each country.
Why: Many children in impoverished communities fall behind in school due to life circumstances. Tutoring can help students stay engaged, leading to increased employment opportunities and — long-term — healthier, more empowered lives.

Community Centers
What: Offering resources like computer labs and libraries to children in our programs.
Why: Our community centers act as safe havens and learning hubs for children in our programs, providing a respite to focus on schoolwork or just being a kid.

Learning Spaces
What: Providing learning spaces to keep children on track and prepared for secondary education.
Why: One of the reasons students drop out when they reach upper secondary grades is because they've been falling behind year after year. It finally becomes too hard to keep up in class and/or pass entrance exams. Learning spaces help students do better in class so they can stay in school and on track for graduation.

Computer courses
What: Promoting digital literacy that prepares children and youth for the workforce and secondary education.
Why: We live in a technologically advanced world and giving children the tools they need to compete in a digital marketplace is critical for helping them make their way out of poverty.
Did you know?
One of the reasons children in poverty drop out or fail to graduate is because they've been falling behind year after year and it becomes impossible to catch up. Our learning spaces help students do better in class so they can stay in school and on track for graduation.
Our HOPE Fund provides scholarships that allow qualified youth to advance their education in secondary school, vocational training institutes, and even college or university. Each year, Children International awards thousands of HOPE scholarships. Giving to the HOPE Scholarship Fund helps pave the way for impoverished youth to escape poverty through education. After making it this far, they need a boost to attend college or vocational school. Give your support now. Give Hope.
Why focus on education?
When we reduce barriers to education, we set children up to thrive. Access to education reduces the likelihood of a child's involvement in gangs or drugs, and lowers the number of teen pregnancies. Education leads to healthier childhoods and, ultimately, to greater economic prospects as adults.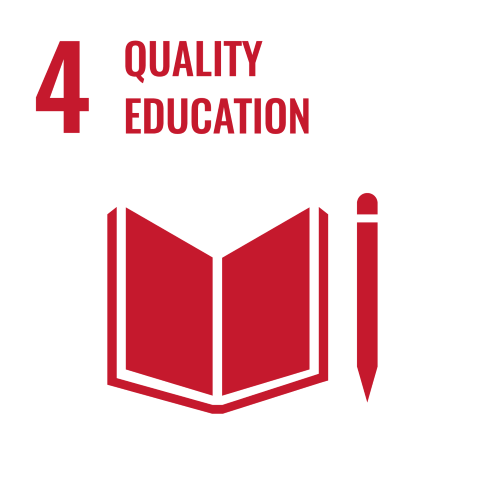 Our education programs support the United Nations' Sustainable Development Goals (SDGs) for 2030. No. 4 is: Ensure inclusive and equitable quality education and promote lifelong learning opportunities for all. Learn more about SDG No. 4 here.
What gets measured?
When it comes to education, we look at the following results:
Increased secondary school completion: We measure success by identifying the percent of sponsored Children International graduates who reach this milestone by age 24.
Increased school enrollment: We measure the percent of sponsored children who are enrolled in any level of formal education.
Increased achievement of identified learning outcomes: We measure the percent of sponsored children who achieve minimum proficiency standards for their age or grade level.
Fast Fact:
Our computer courses combine traditional teaching with experimental learning to create innovative programs that prepare children for the tech world. In 2018, our courses saw a 35% increase in participation with more girls joining than boys. In a field largely dominated by men, this rise in engagement is a win for our program and the girls logging on.
Results in action


The HOPE Scholarship
The HOPE Scholarship Fund allows qualified youth to advance their education in secondary school, vocational training institutes or at the college and university level. Each year, Children International awards thousands of HOPE scholarships. In 2018, 99% of scholarship recipients finished the school year and 97% advanced to the next grade level or graduated from secondary school.


Tutoring
Our tutoring programs are designed to help children who have fallen behind catch up, graduate from high school and continue their education. In 2018, 19,592 students in our program completed math tutoring while 18,488 completed literacy training. Some students did both, bringing the total number of students tutored to 23,763. 92% of students who received math and literacy tutoring improved their knowledge in either or both subjects.


Learning Spaces
Formal learning activities at Children International libraries boost math, science and literacy skills, helping students work toward secondary school graduation. Creative learning opportunities in our community center libraries (clubs, workshops, innovative programs) help children stay engaged and on track for secondary-school completion. In 2018, Colombia, Kolkata and Dominican Republic achieved 100% completion rates. Dominican Republic and Kolkata beat their goals for increased student proficiency in both math and literacy. In Kolkata, 92% also improved their science skills. In Colombia, 98% of learning activity participants increased their literacy proficiency.


Computer Courses
In 2018, we saw a 35% increase in participation in our computer courses with more girls completing the course than boys — a significant figure in the male-dominated tech world. Ninety-five percent of total participants increased their digital literacy, while 87% significantly increased their knowledge.
Did you know?
The likelihood of infant mortality decreases up to 10% for every additional year of schooling a mother receives. See more facts about poverty and education, and how you can help.