Also, unemployment and underemployment leave many families in the Philippines struggling to meet basic needs like tuition or uniforms their kids need to attend school. And, getting to secondary school remains a challenge: Only 69% of kids from poor families continue to high school, while 94% from wealthier households attend.
Kids being kids
Despite all the issues stacked against Justine, he's your typical 8-year-old. He hates eating his vegetables. (Merlita confesses to mixing mashed pumpkin with rice to ensure he gets his proper portion of veggies.) And he likes playing outdoors with his neighborhood friends, drawing and using his imagination playing with his toys and cars.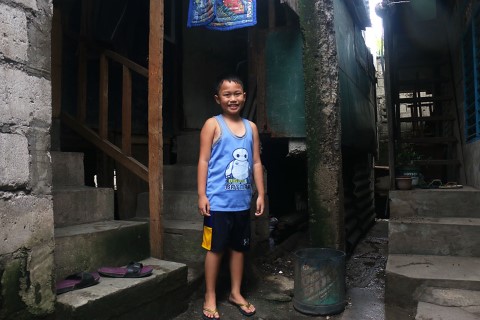 His participation in CI's sponsorship program increases his chances of breaking out of poverty. He receives supplies for his primary school education, and he has access to the library and computer lab in his local community center. If he needs help in school, he can sign up for tutoring and a summer reading program. He'll continue receiving school supplies once he's enrolled in secondary school — and qualified teens can receive extra financial support to help them complete their schooling.
When Justine is older, he could also qualify to receive assistance to pay transportation fees if he goes to vocational or a post-secondary school. Or, he could participate in our job-skills training and placement program.
These are just a few of CI's many programs aimed at helping kids become healthy, educated, empowered and employed to break the cycle of poverty for good.