Tape measure-like tool invented in Kansas City named in magazine's "World Changing Ideas" for 2021 after four leading companies collaborated to extend the use of the innovation to children and mothers in hard-to-reach, developing countries globally
KANSAS CITY, Mo. (May 4, 2021) – Children International, a global humanitarian organization that helps children break the cycle of poverty, has been recognized by Fast Company, a premier business magazine, for its role in getting a new life-saving tool into the hands of caregivers and communities to detect malnutrition among children in nine countries where the nonprofit works.
The MUAC z-score tape, tested and rolled out by Children International in partnership with three leading Kansas City, Missouri-area companies as well as Abbott Nutrition Health Institute, is an inexpensive, effective, and life-saving tool (resembling a tape measure) that signals the risk of malnutrition in children. The tape, and the collaboration that went into its development and distribution, was announced today among Fast Company's World Changing Ideas for 2021 in the wellness and developing world technology categories.
Food scarcity among children and families is a growing concern in the United States and in vulnerable communities around the world. Globally, malnutrition affects more than one in five children and has expanded to affect an estimated 6.7 million children during the first year of the COVID-19 pandemic. But thanks to the MUAC z-score tape, a Kansas City-led innovation, there's hope in the fight against global malnutrition. For the first time, this medical breakthrough makes it possible for mothers to detect malnutrition in their children (up to age 18) early and easily, from their own homes.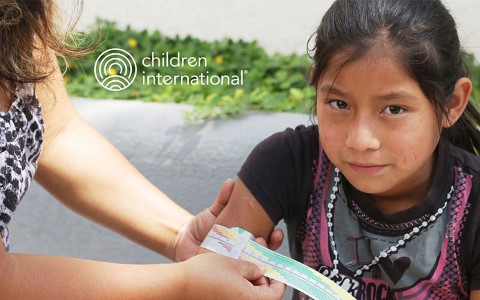 The MUAC z-score tape was invented by a doctor at Children's Mercy, a renowned children's hospital, and reached the world because of close collaboration among four leading organizations — Children International, Abbott, Children's Mercy and Hallmark. The innovation demonstrates how the world's best ideas are the ones that bring thought leaders together, take on a global challenge and reach the most people who need it.
In this case, the MUAC (mid- and upper-arm circumference) z-score tape addresses the global challenge of malnutrition. In years past, identifying malnutrition required complicated calculations that only trained medical professionals could administer. However, with this new measurement tape, Children International's in-country volunteers and health staff can easily assess whether a child is under- or overweight. No extra calculations are necessary.
Children International first used the MUAC z-score tape in trial studies in Guatemala and India two years ago for more than 6,500 of the children it served who needed nutrition support. The tests went so well that Children International has since rolled out use of the tapes to children in the nine countries where it works internationally, having played a role in measuring the nutritional status of more than 10,000 children around the world thus far. Now, what once could only be done in a doctor's office can be done in the most remote locations globally, at a cost of less than $1 per tape.
"Addressing malnutrition in children's lives is a key part of our mission to end poverty," said Susana Eshleman, Children International president and CEO. "It's great to see one of America's preeminent business publications recognize Children International — and our volunteers, families and children — in this way.
"The MUAC z-score tape aligns perfectly with our priority of putting the power in the hands of those we serve and continues to produce positive results," Eshleman said. "Together with Abbott, Children's Mercy and Hallmark, our staff and volunteers are working hard every day to expand global access to this life-saving tool."
For information about the MUAC z-score tape initiative, and the tool's testing, development and implementation, click here.