In addition to a grant from the Starwood Hotels & Resorts Worldwide Foundation, Inc., experienced management staff members from Starwood hotels teach young people the skills needed to excel in the hotel trade, including culinary arts, waiting tables and housekeeping. Additionally, the program equips youth with life skills – such as effective communication, conflict resolution and teamwork – to help them transition into their jobs and outline a career path. The training program was designed as a pilot in Ecuador and Guatemala, and has far-reaching possibilities to help youth around the globe.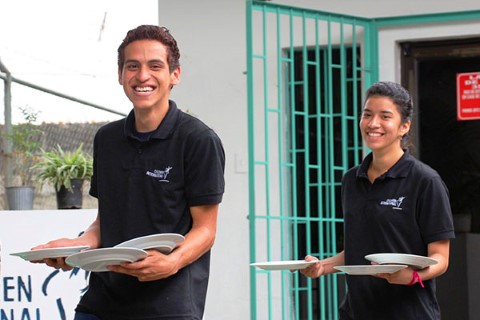 "This program is a win-win for everyone involved," said Children International's Director of Workforce Development, Tom Owens. "The youth get the training they need to be successful; the hotels in these countries are able to hire talented, capable youth; the local economy grows; and the community enjoys more stability."
Rocio Hammershaimb from Starwood Hotels & Resorts Worldwide, Inc. added, "At Starwood, we have a long history of cultivating great talent. Many of our hotel management mentors once started their careers in entry-level positions and progressed through the organization. They serve as both role models and inspiration to the young professionals entering the program."
Just last month, a graduation ceremony took place at a Sheraton hotel in Ecuador to celebrate 50 youth who completed the program. Guests from Ecuador's Ministry of Labor, the Ministry of Tourism and several other hotels attended the event and were impressed with the program and the graduates themselves.
Into Employment job training
Thanks to a recent Starwood Foundation grant, Starwood and Children International have created a training program specifically to help youth prepare for jobs in the tourism industry in Ecuador and Guatemala.
Frank, a recent Into Employment® graduate, said, "It has been a wonderful experience...the greatest experience of my life."