"The Inspirer"
Laura Thornton
Vice President of Global Philanthropy and Marketing
Known for: Bringing innovation together with data and technology to engage current and new supporters. At Children International (CI), Laura oversees global marketing, engagement and fundraising initiatives, including strategic and operational planning, direct response marketing, digital media and donor relationship marketing.
Path to CI: Right out of the gate, Laura was in the thick of analyzing market data and developing fact-based insights for the newspaper world (Gannett and USA Today) and the agency world (Response Marketing Group). She spent the last two decades at nonprofits, including Christian Children's Fund and ChildFund International where she directed marketing, strategic insights and philanthropy programs. Laura has a bachelor's degree in economics and political science from Duke University, and an MBA from the University of Richmond.
On CI values: "Our value 'always learning' is a favorite," Laura says. "Our goal is to continue to improve our processes to provide the best donor experience possible. We learn through testing, asking questions and reimagining ways to build connections, so we bring out the best in all of us — working together to implement change."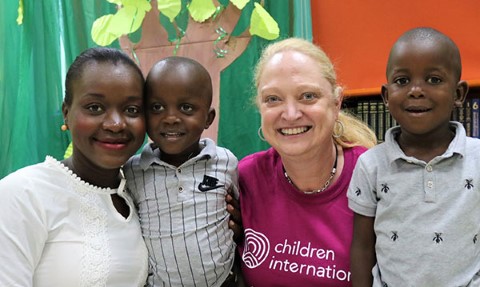 Passion: The donor journey is at the heart of Laura's work. She is passionate about sharing what she thinks are CI's differentiators: empowering programming and "beacon of light" community centers around the world.
"That personal connection between a sponsor and a child is what it's all about, and makes everything possible," Laura says. "It's incredible to see the light shine in our children's eyes when they are given hope by someone who believes in them. They are then able to tap into their potential and begin to realize all that they can become. It took my breath away the first time I saw our community centers and the learning taking place there. We're all on this journey together to change lives."
Personal: Laura grew up on a beach in Ocean City, Maryland, where her parents owned and operated hotels. With entrepreneurs as parents, she learned business basics at a young age, especially the hard work, time and effort is takes to build something you can take pride in. Now Laura and her husband, Rick, spend their free time watching their teenager's baseball, football and basketball games and working concessions.