"The Connector"
Tim Bachta,
VP, Information Technology
Known for: Working with business partners to create innovative IT solutions, Tim brings the expertise and understanding of a "business technologist" to Children International. He believes in fostering a culture of experimentation. "You have to provide a safety net to allow people to make mistakes," Tim says, knowing that sometimes failure leads to unexpected solutions. Tim admits that he once believed he had most of the answers. "Experience has taught me the value of open-mindedness and seeking input from others, which," he adds, "allows for better answers and more creative ideas."
Path to CI: Tim spent nearly four years serving in the Army, where he developed many of his views on leadership. Post-military, Tim's early career was in the world of application development. He became the Director of PMO/Director of Application Development at Assurant for seven years. There, he led a team of 25 developers and worked with the marketing and sales divisions in the application development of two new sales channels. Most recently, Tim held positions as Chief Information Technology Officer at Shamrock Trading Corporation and Executive Vice President/Chief Information Officer at NASB.
On CI values: "People amaze me every day with their ingenuity," Tim says. This is why the Children International value, "see potential in everyone, everywhere" resonates with him. "I think this value can be lived anywhere. Here at CI, we're not just providing a bandage; we're trying to break that cycle of poverty. We are empowering the children, youth and families we serve to help themselves and their communities. They have the opportunity to be that multiplier of change in their own lives, their family's lives and in their community."
Passion: Tim is focused on how technology can be used to help break the cycle of poverty, globally. He is eager to spend time looking at ways our organization can empower all our beneficiaries to leverage technology in ways that can assist them in elevating themselves and those around them.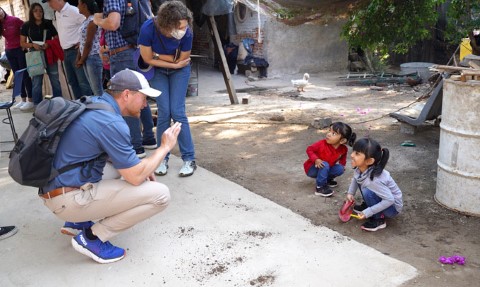 Personal: Tim is originally from Chicago but has called Kansas City home for 22 years. He has been married for 20 years to his wife, Bernie (Bernadine). Tim and Bernie have four children: Nate (18), Reece (16), Ella (12) and Chase (10); three dogs (Cubby, Daisy and Bentley); and a gecko. Tim coaches youth sports (hockey, baseball and softball) for his youngest two children. He also spends two nights a week playing hockey.