Doug Bassett
VICE PRESIDENT, GLOBAL PROGRAMS AND OPERATIONS
Known for: Integrating new program ideas into organizational practice has always been one of Doug's driving traits. Development programs and human development are complex and require taking the best ideas of what works and knowing how to bring them down to a practical, operational level in organizational processes. Doug's most meaningful and memorable work experiences have been when joining others to brainstorm new programs and eventually seeing them operationalized and positively impacting the participants.
Path to CI: Doug has worked for more than 30 years in international development, first with World Relief and then Compassion International, in a broad variety of youth development, community development, institutional development and emergency response programs. His roles have been in program and field leadership and his work has been at the national, regional and global levels. Doug has lived in Latin American and European countries for a total of 20 years. He has degrees in economics, business administration and human services.
On CI values: A commitment to learning is part of what drew Doug to join Children International. He feels that all the CI values are interrelated, but highlights learning as foundational for effective programming. "There is no one program that is the magic bullet," he says. "Programs are implemented in different settings with unique people, partners, communities and resources. They require continuous learning and adaption, which comes from monitoring and evaluation. It is through those learning processes that we discover if we are effectively and efficiently implementing the program, and if we are having the impact we seek."
Passion: Doug is passionate about accountability. So much so that he wrote his doctoral dissertation on the accountability of international development organizations in their partnerships. This idea extends into Doug's deep belief that we need to find ways to listen closely to the voices of those who participate in our programs. This, he thinks, is a central form of accountability in all our work, with the goal of becoming better stewards of supporter funds and of creating programs that become increasingly more effective in breaking the cycle of poverty.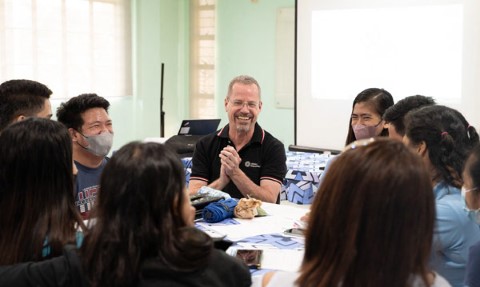 Personal: Doug and his wife, Bea, live in Colorado but spend significant time in El Salvador, where Bea was born. They have two grown children, Allison and Daniel. Doug enjoys everything about the outdoors, especially hiking, birding and camping.