"The Problem Solver"
Bill Brewster
CHIEF OPERATING OFFICER
Known for: Asking questions to dig deep and find innovative business solutions. Bill sees opportunities to improve quality and service while developing initiatives for growth at Children International (CI). He manages employees, processes and tools/technology with a global lens. His responsibilities include global IT, constituent understanding and insights (analytics), global finance and business transformation.
Path to CI: Bill worked at Hallmark for 17 years in different operational roles before opening his own business called Excel Logistics, a freight brokerage business. He ran the business for 10 years and sold it when he decided to tackle poverty. Bill's first visit to a CI community center in Ecuador was "life changing" and as he looked into the eyes of the kids and the mothers he met, he knew he made the right decision.
On CI values: "To me, our value 'own the impact' is critical to everything we do," Bill says. "We're a data-driven organization that makes informed decisions based on facts to keep moving forward. If something isn't working, we find a better solution. We owe it to our kids to make sure we get it right. They deserve it."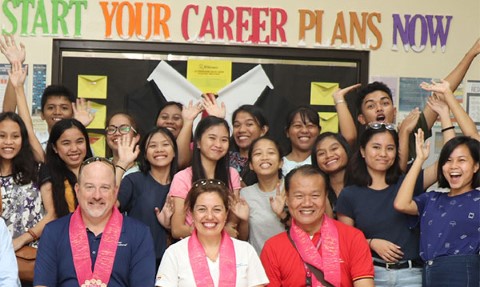 Passion: Bill is focused on efficiency and results. Even as a child, he would mow the lawn in a circular motion so he didn't have to stop at the end of each row and waste time. It allowed him to go play quicker.
"I'm just wired that way," Bill says. "My brain is always on process optimization. I like solving puzzles and seeing how all the pieces work together. I like consuming information, driving strategic value and alignment, looking at our return on investment and partnering with people around the world to ensure we're operating in the most effective way to deliver on our mission."
Personal: Bill and his wife, Jill, have been married for 31 years and have two grown children. They enjoy spending time at the lake in the summer and skiing in the winter. He is a Kansas State Wildcat fan, and earned his bachelor's degree in industrial engineering from the university.