"The Developer"
Maria Fernanda Corral
Vice President of Global Talent Growth
Known for: Believing in human potential and the power of connecting people with their talents and passion to build an empowering, high-performance organizational culture. Maria Fernanda is also an expert on developing leaders and coaching them so they can create the right conditions for their teams to succeed. "I believe, as the author Clayton Christen says, that great leaders can change the world," Maria Fernanda says.
Joining Children International (CI) in April of 2019, Maria Fernanda is the Vice President of Global Talent Growth (CI's new name for HR). This more accurately reflects the organization, as it's the talented employees whose diverse abilities and ideas make up the collective strength to support the children CI serves.
Maria Fernanda is partnering with the organization's leadership team to build a values-driven culture and implement innovative practices to ensure CI is attracting and developing employees to maximize their own potential and fulfill CI's mission.
Path to CI: With more than 20 years of experience, Maria Fernanda's expertise spans talent management, executive coaching, strategy execution, organizational development and more. Her background includes working for multinational companies in Ecuador and the United States: La Internacional, Ericsson and Chiquita Brands. For the last decade, she has served as partner and general manager in Ecuador for Franklin Covey, a global consulting company that specializes in performance improvement. She received her bachelor's degree in Industrial Psychology from Pontificia Universidad Catolica del Ecuador.
On CI values: CI's value "see potential in everyone, everywhere" is taken to heart by Maria Fernanda. "Potential is in every person — we need to see it and believe in it. I want to create conditions for potential to flourish and bring the best out of people," she says.
Passion: Inspiring others. Maria Fernanda is also the president and founder of Mujeres por Mujeres (Women for Women Ecuador), a nonprofit organization that promotes the advancement of women into leadership positions.
"Mujeres por Mujeres grew quicker than I could have ever imagined," Maria Fernanda says. "We triggered the conversation in Ecuador about the importance of gender equality in the workplace and opened the door for women to be hired in nontraditional positions, such as construction and security workers. Perhaps, most importantly, we have a leadership development program for teenage girls in vulnerable, poverty-stricken areas. We partner these girls with accomplished women executives as mentors. This experience gives me a unique perspective coming to CI."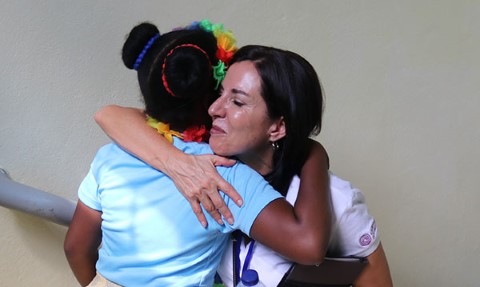 Personal: Maria Fernanda lives in Ecuador and has a daughter named Andrea, who inspires her every day to be a better person. She enjoys traveling with Andrea, playing sports, good conversations and good books.