(November 19, 2020) On November 12, 2020, Hurricane Eta tore through the country of Honduras and caused significant damage throughout. The strongest storm to hit the region since 1998, Eta caused severe flood damage to the Asentamientos Humanos Community Center that affected all equipment and property inside the building. Many sponsored children's homes were flooded, with some expected to be a total loss. We have no reports of death or serious injury, but the extensive damage has caused delays in all communications coming out of Honduras.
Based on early reporting, our staff is working on establishing contact with volunteers and families. So far, it appears everyone is accounted for, but it will take time to reach everyone. Water levels are receding, but there is still broad flooding and power loss.
Communication will be a challenge for weeks to come, but we will work to provide updates as we receive them.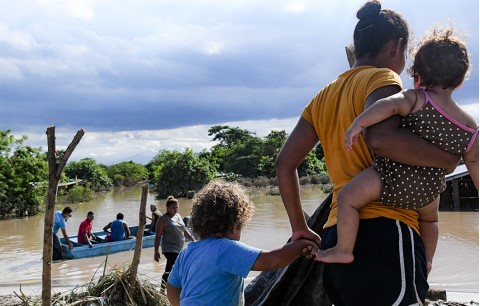 Here's what we know at this point:
All community center locations are reporting Children International families impacted by Hurricane Eta – in total, nearly 2,000 sponsored families.
All areas report internet and cell phone services are unavailable or intermittent. Some communities have no electricity or potable water.
13 Children International staff members have lost their homes. Two other staff members suffered damage to their homes.
Our telehealth program has been up and running since the beginning of the storm and providing medical assistance to sponsored families by offering prescriptions and medication through local pharmacies.
Our sponsored communities will need help to recover from this storm and get back on their feet.
To help overwhelmed families, donate to the Critical Needs Fund.