Zambia
how our charity programs fight poverty in Zambia, Africa
Zambia is a country blessed with rich minerals and precious stones such as copper, emeralds, zinc, lead and cobalt. Yet, it is estimated that at least 65% of people live in low-income communities in this region, surviving on less than $1.25 a day. On average, a poor family of five lives in a two-roomed home with brick walls and hard floors which is usually very cold during the winter months.
Zambian culture is diverse, and although English is the official language, the total number of languages spoken in the country is 73.
Known for its stunning wildlife and breathtaking scenery, Zambia is a sought-after Safari spot. However, the beauty masks challenges that have persisted in the country for generations. Most of the children in our communities lack access to comprehensive health and dental care. Although government-run medical clinics exist in some communities, these facilities are overwhelmed and understaffed. The education system is poor in Zambia, and it can be difficult for young children who fall behind to catch up. Malnutrition in children is widespread and often causes setbacks that last a lifetime. And unemployment and underemployment in the youth population create wide-ranging personal and societal deficits.
With three community centers and a dedicated team on-site, Children International is working to create lasting change for the children and youth of these communities. Community centers offer nutrition education as well as cooking demonstrations to promote greater health awareness and savings tips for families. Always focused on education, we provide tutoring programs and school supplies to our sponsored children. Our youth programs, such as Into Employment® and Social and Financial Education, ensure youth have the skills and knowledge they need to become empowered and break the cycle of poverty. With your help, we can end generational poverty for good in Zambia.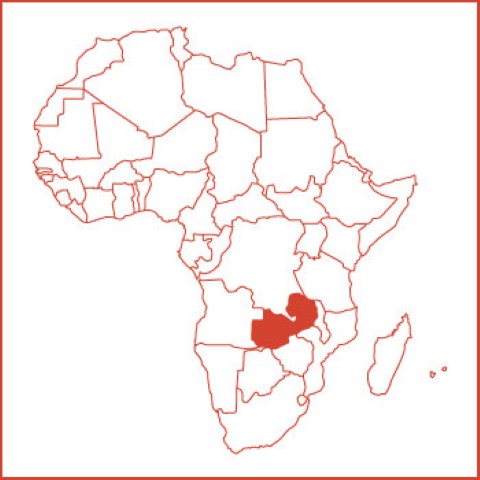 POPULATION
17,381,169
CAPITAL
Lusaka
CURRENCY
Kwacha


DID YOU KNOW?
Victoria Falls is a major tourist destination in Zambia, drawing nearly a million visitors each year.

Our work in Zambia
In communities like Zambia, we invest in the lives of children and youth to build the healthy environments they need to find a path out of poverty. With your help, our programs can make an impact on their lives and help them envision a future they never thought possible. Below are some of the challenges facing children in Zambia and the ways we work to create lasting change in their communities.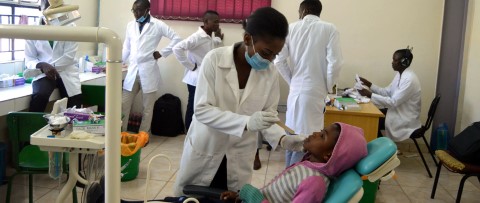 Health care
CHALLENGE
Impoverished communities in Zambia usually lack proper sewerage facilities, leading to water contamination, cholera and outbreaks of preventable disease. Most children in Zambia don't have access to comprehensive health and dental care. Although government-run medical clinics exist in communities where our sponsored children live, these facilities are overwhelmed and understaffed. They also rarely have the necessary medications on hand, and patients must pay fees for services. Lastly, dental care is simply not available.
---
SOLUTION
Education on healthy behaviors is crucial to help stop the spread of preventable diseases and enrollment in our sponsorship program helps ensure children have access to health care and dental services when they need it.

Over
74,000
sponsored children and youth received at least one exam from a Children International clinic
*All data from 2018.
The importance of health care
Children struggling with health issues often fall behind in school, and, failing to catch up, many drop out. Health issues early on can have lasting effects on a child's life, continuing a cycle of poverty that lasts for generations.
Learn more about health care programs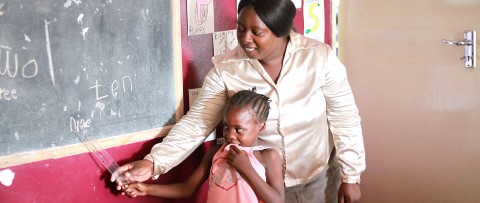 Education
CHALLENGE
Teachers in Zambia have to deal with overcrowding and a lack of educational materials, such as textbooks. Most classrooms in Zambia are a room made of blocks and concrete with a roof protected by timber, but in peri-urban areas there is even a shortage of schools in this dilapidated condition. Where there is no government school nearby, parents or guardians team up to establish their own community schools, which are likely taught by a volunteer who has recently finished his or her secondary school. Education for primary and secondary school is now free through a government policy instituted in 2021. While this is a step forward, the teacher-to-pupil ratio has sky-rocketed as high as one teacher per 80 pupils in the highly populated areas where we work. Many families cannot afford the basics such as uniforms, books and pencils let alone the cost of tuition.
---
SOLUTION
Community centers in Zambia house libraries, computer labs and act as safe haven for our students to study and focus on school. Our education programs provide necessities like uniforms, shoes and books. Annual scholarships allow children and youth the opportunity to continue their educations. And tutoring programs to help children who have fallen behind catch up and stay in school.

For the second
year in a row,
97%
of tutoring students were able to finish their school year and move up to the next grade level
The importance of education
Children who fall behind in school are likely to drop out due to a lack of hope or a confidence they will ever catch up to their peers. Without education, children are more likely to turn to drugs, gangs or find themselves involved in violent situations. Education is essential to helping children forge a path out of poverty and envision a life for themselves they never thought possible.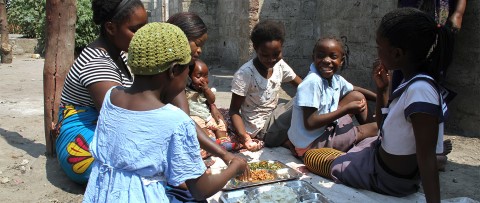 Malnutrition
CHALLENGE
Although similar, hunger and malnutrition are not the same thing. Hunger consists of a lack of food while malnutrition is when an individual doesn't get the nutrients they need to thrive, which can have serious lifelong consequences. Malnutrition is a widespread problem across Zambia and often causes setbacks that can follow a child throughout their lifetime.
---
SOLUTION
Community centers in Zambia offer nutrition education as well as cooking demonstrations to teach parents low-cost, nutritious ways to prepare meals for their families. We also provide regular health and malnutrition screenings and, if needed, access to rehabilitation programs where a child's progress is monitored for improvement.

Globally,
62%
of at-risk children were rehabilitated to normal weights through our Nutrition program
The importance of nutrition
Beyond inhibiting physical growth, malnutrition keeps the brain from developing to its full potential, which makes it harder for children to learn. The lasting effects of malnutrition on a child can be lifelong, weakening the immune system and making them more susceptible to disease. Struggles with illness keeps children out of school, leading to further challenges and the cycle of setbacks and poverty continue.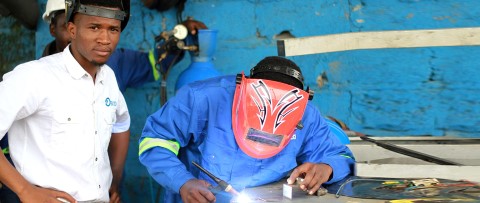 Employment
CHALLENGE
The average monthly income of a family in our program is around K1500 or 89 US dollars. Most families in our program survive by selling food and other merchandise at home in small makeshift shops commonly known as katembas while others sell their goods at a local market. Some families make their living through daily jobs such as gardeners and maids and their monthly incomes can be as low as K300 or 17 US dollars or as high as 83 US dollars.
---
SOLUTION
Our programs support children throughout school ensuring they have the education they need to become employable youth. Our Into Employment® and Social and Financial Education programs provide youth the skills and knowledge they need to gain stable employment and create lasting change in their community.

71%
of Into Employment program participants were placed into jobs with the skills they gained
The importance of employment
Children and youth can not escape out of poverty without finding stable, long-term employment as young adults. Many children in our program don't have the basic skills to begin an employment search. How do you fill out a resume? Where do you look for jobs? How do you speak to an employer? Our employment readiness programs prepare youth to find employment and create a future for themselves they never thought possible.
Your support is crucial to our programs
Are you ready to create change in Zambia?
Search for a child ready for sponsorship.
16

years old

Waiting 79 days

Zambia

16

years old

Waiting 156 days

Zambia

16

years old

Waiting 52 days

Zambia
Load More
Community centers
Our 67 community centers worldwide are hubs for activity and achievement as well as safe havens for children in our programs. See what's happening at our community centers.

The David C. Emmett Center | Chibolya
Our center in Chibolya has more than 7,000 sponsored children who call the harsh and badly impoverished surroundings "home." The building includes dental, medical and admin offices, a pharmacy, library, youth center and a playground.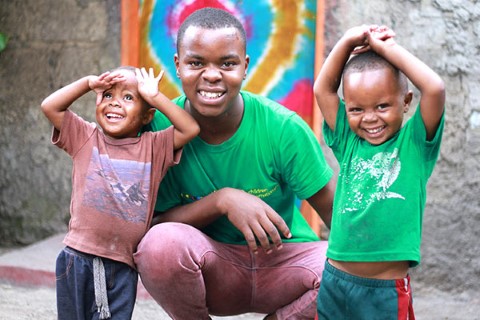 Want to visit your child?
Your support means so much to a sponsored child. See firsthand how you're helping end generational poverty in Zambia. Plan a life-changing visit today.