KANSAS CITY, Mo. (September 13, 2023) – Children International has again partnered with Microsoft and their employees during their annual Month of Giving this year. Together, we are providing children and families with the resources they need to change their own futures and help transform their communities. 
---
Through the month of October, Microsoft is matching employee donations, 1:1, up to $15,000, and will also match each volunteer hour with a $25 contribution.  
---
Children International first joined Microsoft's Month of Giving last year, in 2022, when Microsoft employees helped Children International raise more than $53,000 in support of their programmatic approach to ending generational poverty.
Donations help disadvantaged children overcome some of the biggest obstacles on their path away from poverty: getting and staying healthy, remaining in school, and eventually finding stable employment in the formal work sector. Children International's holistic approach addresses the root causes of poverty, not just its symptoms. And by measuring the impact of programs, we refine and adjust both our approach and our content, becoming more effective and more specialized to meet the changing needs of local communities in 10 countries across the globe.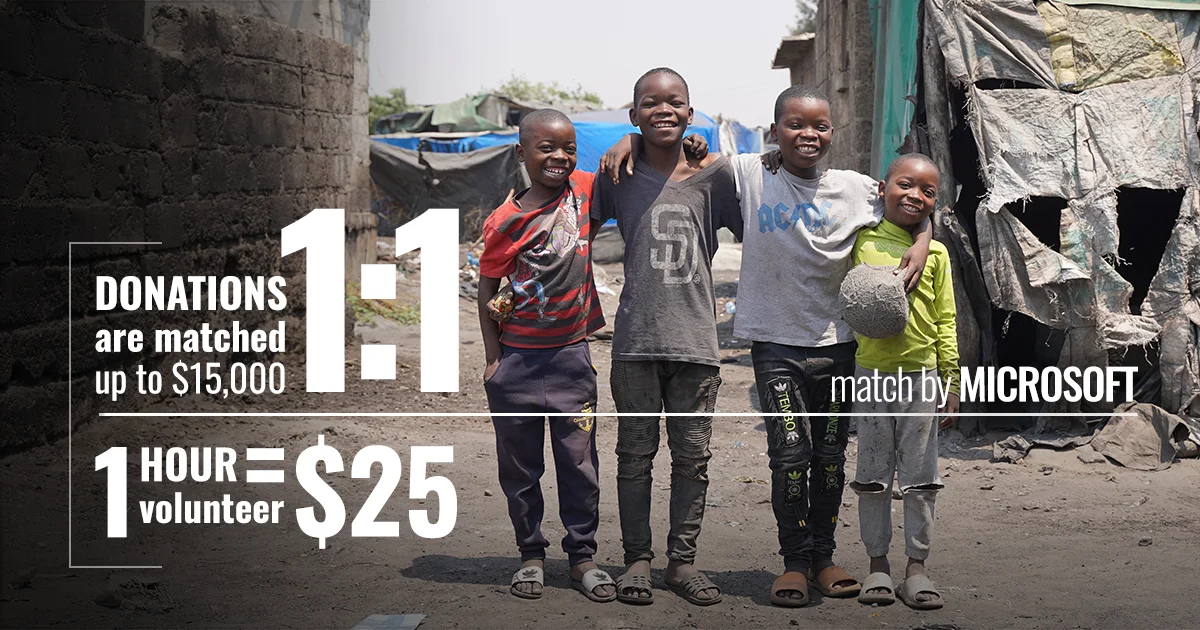 These are just some of the impact results our supporters made possible last year: 
20,356 children and youth globally received tutoring, increasing literacy, math and science comprehension. 
Across the three major employment programs, 93% of enrollees completed their course — and in Honduras, 86% of youth secured employment after completing our Into Employment development program.
The Emotional Well-Being Program expanded to all our locations globally — increasing the program's reach to 62,000+ participants. 
More than 1,500 empowered youth implemented 17 community service projects, including everything from flood prevention to feeding youth experiencing homelessness to boosting nutritional awareness – benefiting entire communities across the globe for years to come. 
Volunteers who donate their time, remotely or in-person, provide children and families with hope and inspiration, knowing good people in the world support and care about them. With Microsoft contributing $25 for each volunteer hour, supporters find there's more than one way to double their impact.  
Hundreds of Microsoft volunteers came together in 2022, giving to disadvantaged communities across the Americas, Asia and Africa in support of Children International's workforce development, tutoring and other educational programs. Some volunteers created colorful bookmarks encouraging young children to read. These were then made available to children and families in community center libraries. Other volunteers shared their career stories with our youth through recorded sessions, creating a new Digital Career Library to inspire the next generation. This library will help further strengthen the organization's capstone initiative, Into Employment®, equipping youth with 21st century skills, vocational training and career counseling relevant to their local job markets.