KANSAS CITY, Mo. (July 6, 2022) – In late April 2022, Children International Colombia was awarded for its Education and Health programs at the ceremony, "Alliances to Overcome Poverty," held by the Ministerio de Prosperidad Social (or DPS, the governmental Health and Human Services agency). This recognition is awarded to key allies that contribute to innovative projects in the battle to overcome poverty, offer local programs and projects, form alliances with the private sector and NGOs, and work to close digital gaps, among other needs.
Agency Director Hermelinda Guarin accepted the recognition on behalf of the entire CI Colombia team. "I feel very happy and thankful for this recognition from the DPS," Hermelinda said. "We have an undying commitment to continue working with children and young people to create the Colombia we all dream of; a nation with equity, opportunities and peace."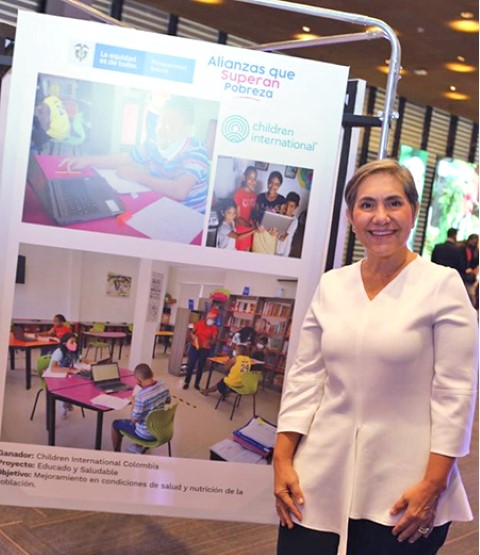 Agency Director Hermalinda Guarin at the "Alliances to Overcome Poverty" ceremony, held by the Colombian Health and Human Services agency.
"I am grateful and proud that the national government recognizes our direct participation in poverty reduction in Colombia," added Julia Maldonado, program manager in Colombia. "It is a well-deserved recognition for so many years of work on behalf of children and young people, helping them close the gaps in health and education they face every day."
Fighting poverty through education and health
Since 2016, CI Colombia has been working to reduce the problems of performance and school dropout rates of our children and youth. During this period, more than 4,000 young people received tutoring or other educational interventions, and 98% of those at-risk students have remained in school.
In 2020, due to the pandemic, the agency recognized an increased dropout risk for students in virtually all grade levels. About 4% of school-age children were out of school, primarily due to economic insecurity, nutritional deficits, underlying illnesses and school closures. To close this gap, CI Colombia implemented the program Educado y Saludable [Educated and Healthy] to boost attendance for those most at risk of dropping out of school for these reasons.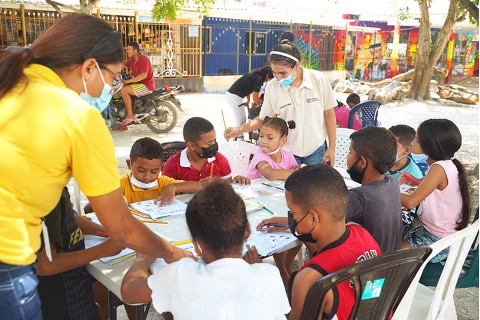 Because many sponsored children live far from the community center, the CI Colombia agency moved the program "At School" into the neighborhoods of our volunteers in an effort to reach more children.
Numerous strategies were used to achieve these results, including academic orientation sessions, tutorials, technology equipment loans and data recharge (to help with accessing and storing necessary files and education apps). The agency reached more than 16,152 participants to ensure connectivity, as well as promoting and providing health services when the kids in our programs needed them.
This success has been the result of highly collaborative efforts by a team of coordinators, officers, administrative staff, accounting teammates, volunteers and more.
The entire Colombia agency demonstrates an impassioned drive to continue effectively and efficiently working for the most vulnerable families in our communities. Together, we are striving to create a world without economic scarcity, where every child, family and community has the tools and opportunities they need to grow and achieve their full potential.
FACTS & FIGURES: Education & health in Colombia
4,000 children have participated in school reinforcement activities and programs.
98% of them have remained in school since 2016.
Supporters helped ensure the connectivity of 16,152 children, so they could continue with their studies amid school closures.
During the pandemic, every community center had a dedicated health official to keep families apprised of changes and alerts through phone calls and WhatsApp, responding to requests for help within 24 hours.
National and regional quarantines made it difficult for many families to access clean water at home. Couriers delivered handwashing and safe water kits that included soaps, towels, and water storage tanks.