Media contact
Christina Becherer
Global Director, Strategic Partnerships
KANSAS CITY, Mo. (December 12, 2022) – Children International partnered with Amazon, Airlink, Clean the World and Heart to Heart International to help families impacted by Super Typhoon Noru in the Philippines and prepare disaster-prone communities for future storms.
Amazon donated $20,000 to procure urgently needed supplies, including first aid kids, Vestergaard LifeStraw water filters and multifunctional emergency radios.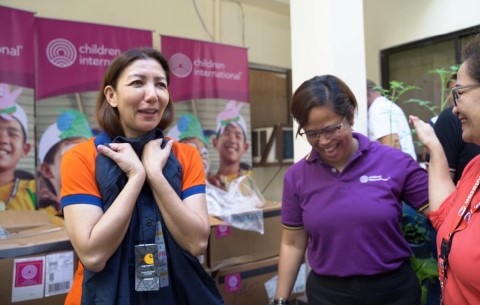 "Typhoon Noru was a devastating one. I'm happy and proud Amazon could contribute to Children International to help the communities in need," said Abe Diaz, Principal PM, Disaster Relief by Amazon.
Other items donated by Heart to Heart International and Clean the World included medical and hygiene supplies as well as DripDrop oral rehydration solution.
Thanks to Children International's partnership with Airlink, items for disaster relief may be airlifted at no cost.
These donations are supporting hard-hit areas such as Calumpit — one of the many Philippine communities that Children International works in — where homes were flooded up to nine feet. Children International operates 14 community centers in the Philippines with a total staff of 266 team members and nationwide distribution reach through local partnerships.