KANSAS CITY, Mo. (September 21, 2021) – The University of Arkansas at Little Rock Children International has received a grant of more than $1.5 million from the Windgate Foundation to support education and outreach programs for central Arkansas children.
"It is my privilege to publicly thank the Windgate Foundation for this transformational gift," said Susana Eshleman, Children International CEO. "Through a longstanding partnership with the University of Arkansas at Little Rock, our work in Little Rock provides a vital springboard for thousands of disadvantaged children and their families. A shocking 75 percent of students enrolled in Little Rock's public schools experience the vulnerabilities associated with low family income.
"With this generous legacy gift from the Windgate Foundation, the committed Children International team in Little Rock has significant additional resources to boost students' educational opportunities for generations to come," Eshleman said. "More children and youth can now be agents of change in their own lives, making it possible for them to pursue higher education and claim their independence. Just the thought of helping more motivated young people fully realize their potential absolutely thrills me!"
Windgate's grant will provide $1.56 million for UA Little Rock Children International, which serves approximately 2,100 children and youth in central Arkansas. The first $1.5 million will create an endowed fund to cover operational expenses. Children International will also receive $60,000 as a bridge grant to use in the next year.
"We are impressed by the efforts of the hard-working staff of Children International to provide education and outreach activities for children in the Little Rock School District," said Pat Forgy, executive director of the Windgate Foundation. "I'd encourage others to consider supporting their work to help children become healthy, educated, and self-reliant. There is so much more Children International could accomplish with additional help from the community."
Now in its 27th year, UA Little Rock Children International offers a variety of school- and community-based programs, including after-school and summer programming, cooking classes, emergency food assistance, tutoring, and college preparation and career training.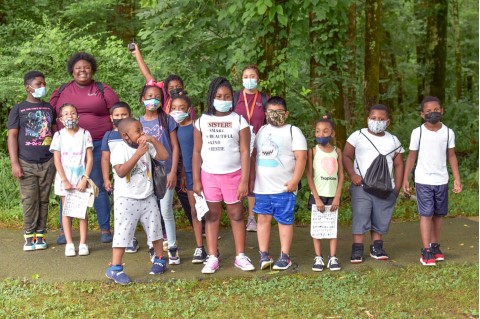 We're grateful for the continued support of the Windgate Foundation," said Ryan Davis, director of UA Little Rock Children International. "This endowed fund will allow us to plan further, dig deeper, and reach higher in our work with children and youth in central Arkansas."
Through other grants, Windgate Foundation has earlier provided funding for UA Little Rock Children International's Hope Scholarships Program, which currently provides scholarships to 26 college students. The scholarship program awards annual, renewable scholarships of $1,500 to college students who have graduated from the Children International program.
"Every year we award 10 renewable Hope scholarships to hard-working college students so they can afford a college degree," said Mya Sandi Aung, senior program manager at UA Little Rock Children International. "We have worked with these students since kindergarten. Their families have become a part of our family. The Windgate Foundation grant has allowed us to increase the number of scholarships we award. More than 90 percent of our scholarship recipients are first-generation students. We are so thankful they are getting the chance to complete their educations, while we continue to provide the support the students need to be successful in higher education."
Xochitl Garcia, an elementary education major at UA Little Rock, said that receiving the Hope Scholarship has made earning a college degree a reality. He plans to share his knowledge as an international elementary school teacher.
"I really didn't know how I was going to pay for school, so knowing that Children International was here to help means the world to me," Garcia said. "Being a part of Children International has brought me many opportunities to become successful! There were so many people supporting me in many ways. I plan on working in my old elementary school to gain some knowledge of working in a school, and then I plan on traveling to teach in different countries!"
In addition to the Hope scholarships, funding from Windgate is also providing a literacy and math tutoring program. While it was once only available to elementary students, it has now expanded to include middle school students.
UA Little Rock Children International works with the Central Arkansas Library System to provide an annual six-week summer program for students. Students learn about art, music, drama, emotional well-being, math, and literacy. To maintain safe social distancing practices, they organized a hybrid summer program for students this summer. In the future, Children International is planning to expand to provide the summer program to more students.
"This gift couldn't have been more timely as we are having conversations to expand our summer and after-school programs so we can help even more students and families," Davis said. "I think it speaks to the efforts of so many people who work and volunteer with UA Little Rock Children International that the Windgate Foundation has such confidence in us to provide quality programming, support, and education for children and youth."