KANSAS CITY, Mo. (June 27, 2019) – This summer, Kansas City-area children coping with an ill family member and children living in poverty in India and Mexico will attend "resilience camps" designed to help them develop life skills for battling mental health issues that come with the stress and emotional strain of their daily lives.
The integrated model of resilience training, adopted by Children International ("CI") in late 2017, was developed by Turning Point, a community resource of The University of Kansas Health System. The curriculum teaches children and teens the skills they need to better cope with whatever comes their way. CI staff and volunteers guide kids through activities designed to relieve stress, including writing, breath awareness, positive thinking and connecting with others.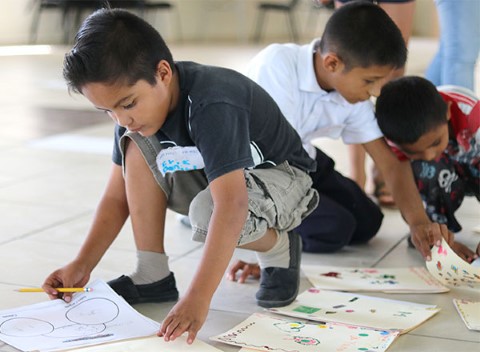 According to CI, a global humanitarian nonprofit that helps children break the cycle of poverty, only 40 percent of the impoverished 6-year-old children in its program are able to cope with emotions and stress. The resilience training curriculum rolled out this past year for more than 2,000 CI children and youth in two field locations — Jalisco, Mexico, focusing on children ages 6 to 12, and in Kolkata, India, for youth ages 12 to 18 — demonstrates that by giving kids daily resilience exercises to use, they can think more clearly, concentrate more easily and feel more committed to and in control of their lives. Early results show that structured exercises help young people living with major life challenges keep their cool, bounce back and recover quickly.
"Without question, even after a relatively short period of time, we've seen that the resilience program is improving the mental health of our children and youth," said Susana Eshleman, president and CEO of Children International. "Better mental health is key because we know it's easier for mentally healthy kids living in poverty to pursue education, feel empowered, become employed and break the cycle of poverty."
Even for people not living in poverty or with a chronic illness, life today is roughly 44 percent more difficult than it was more than 30 years ago, according to results from the Holmes-Rahe scale, which measures life stress. Increased stress impacts hormonal and immune system balance, causing us to age faster. The information age is also causing an increase in multitasking, which creates stress and burnout.
"This partnership with CI has been extraordinary," said Moira Mulhern, co-founder and executive director of Turning Point. "They have a very talented and dedicated staff who were able to take the resilience content, translate it and deliver it in a way that created the same significant results we see here in Kansas City. CI has made the commitment to improve resilience worldwide, and we are honored to be their partner and proud that our program is so far reaching."
Implemented in CI community centers in Mexico in late 2017 and in India the past two years, the curriculum teaches 10 facets of resilience. Although all 10 are taught, CI measured three: "self-replenishment" or self-care, identifying emotions, and self-calming. Older youth self-reported, while caregivers assessed younger children's resilience behaviors. The curriculums in both Mexico and India have a caregiver component. Its goal is to also teach the skills to parents so they can help their children, and often themselves, in the process.
Among the outcomes reported by CI:
Better coping skills: In Mexico, where 735 children ages 6 to 8 completed the program, 92 percent of caregivers said their child could recognize emotions in themselves or others. In other words, they know what they are feeling and can identify when someone else is upset, happy or sad. Prior to the resilience program pilot in Mexico and India, CI conducted a global survey and found that only 40 percent of the 6-year-olds it serves around the world were able to cope with emotions and stress.
Improved curriculum: Caregivers in Mexico also experimented with combining the program with other healthy behaviors training during the summer break, allowing the entire curriculum to be taught in one week. This approach was successful and will be repeated in 2019.
Promising self-calming results: In India, 93 percent of the 469 youth who participated were practicing self-replenishment techniques after completing the program, showing they were capable of self-care. Also noteworthy: 65 percent of these youth reported practicing the more difficult self-calming techniques, which represented a 35 percent increase from pre- to post-assessment in the skill.
Caregiver ripple effect: In India, caregivers reported they felt better prepared to manage their relationships with their children after participating in special caregiver sessions. Learning many of the same resilience skills their children learned, they also said they used the skills to calm themselves when stressed.
Turning Point will host two resilience camps in the Kansas City area this summer: one taking place at its Leawood, Kansas, facilities; the other at the Tall Oaks conference center in Linwood, Kansas. The latter, called Camp Courage, is designed for children with sickle cell disease, allowing them to participate in activities that they normally wouldn't be able to do. With doctors, nurses and staff in attendance, the kids will participate in horseback riding, swimming and other activities.
For more information about Children International and health programs delivering positive outcomes for kids working to escape the generational cycle of poverty, visit the CI website.