NEW YORK (August 15, 2019) – At this time of year, most teenagers are squarely focused on getting ready for another school year. Today, however, 16-year-old Angel More has her sights set on a different kind of achievement. She will attempt to swim a 28.5-mile open-water marathon around Manhattan Island on Saturday, August 17, to raise awareness for Children International, a humanitarian nonprofit that supports children around the world by providing them with a clear path out of poverty.
Angel More (pronounced MOR-ay) has been setting records for hiking and swimming and has raised more than $58,000 for Children International along the way. As she begins her senior year of high school, she aspires to a new goal: to raise $1 million over the next two years to help 5,000 teens in poverty around the world receive the organization's HOPE scholarships. These scholarships help students complete high school and attend college or vocational school.
The Manhattan Island swim marks the official kickoff for Angel's global fund-raising campaign, called Angel's HOPE, for the kids of Children International. A resident of San Carlos, California, Angel is beginning to fill out applications for college and while she does, she thinks about teens around the world who have the same dreams but are unable to afford the education they need to make their dreams come true.
Angel is scheduled to start Saturday's 20 Bridges New York open-water swim at Pier A in Battery Park, at approximately 9:05 am. The swim circumnavigates the island of Manhattan through the East River, Harlem River and Hudson River, around Manhattan's 20 bridges including the George Washington Bridge, the Triborough, the 59th Street Bridge and the Brooklyn Bridge.
Angel is no stranger to athletic achievement. At age 10, she became the youngest girl to climb Mount Kilimanjaro, the highest point in Africa and the tallest free-standing mountain in the world. In 2018, she became the youngest person to complete the California Triple Crown of marathon swimming, a series of three open-water solo marathon swims.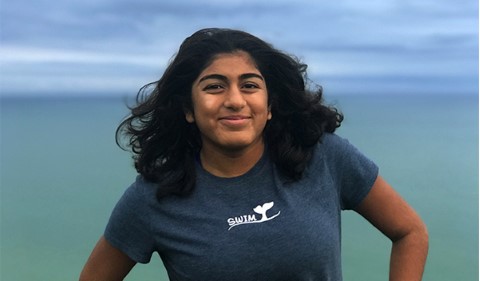 Angel's family sponsors six children – ranging in age from 8 to 15 – from Guatemala, India and Honduras through Children International. Her parents are from India, and she is the same age as one of the sponsored girls, named Supriya, that the family sponsors there.
"It struck me that Supriya and I are much more alike than different," Angel said. "The difference between us is circumstances. I was born into a life of opportunity, and she was born into a life of poverty. I give back — and I hope others will through the Angel's HOPE campaign — because these kids deserve a fighting chance."
To support Angel in her quest to provide scholarships for teens in poverty, go to www.children.org/angelsHOPE. To track Angel's progress in the Manhattan Island swim on Saturday, August 17, go to www.nyopenwater.org/20-bridges-swim