"The Visionary"
Susana Eshleman
CEO and President
Known for: Being a champion of "the world's least and last," and advocating for children born into poverty to give them the opportunity for better lives. This sense of moral justice has been engrained in Susana for as long as she can remember. Growing up, Susana accompanied her grandfather to the poorest parts of Parana, Argentina, to serve others. At a young age, she realized the children she encountered were just like her — except they were born into different circumstances with fewer opportunities. After meeting poor children in every continent in the world, she developed a great desire and commitment to empower them so they could reach their potential and be agents of positive change in their communities.
Path to CI: During a 16-year career with Hallmark, Susana held various marketing, strategy and general management leadership positions. She joined Children International's board of directors in 2004, where she served until becoming president and CEO in 2014. Susana holds an MBA from Harvard Business School, and has a bachelor's degree in international business and management from the University of Nebraska.
On CI values: CI's values are: Live the mission. See potential in everyone, everywhere. Human connections matter. Always learning. Own the impact.
"Our five values are intertwined and are all essential ingredients in the recipe that make up who we are as an organization and how we uniquely create value for those we serve," Susana says. "These values represent our core driving forces and shape our culture, including how we make decisions, how we interact with one another and what we stand for in the world."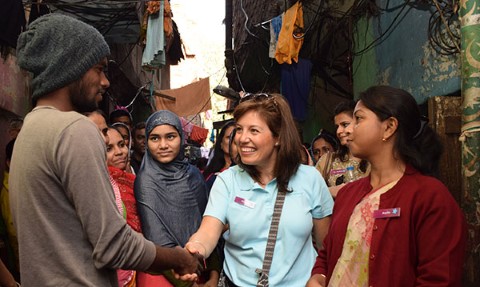 Passion: Susana believes the children served by Children International (CI) have riches most don't fully realize. CI kids are deeply connected, courageous, faith-filled, unselfish and resilient. Their strength comes from their struggle, and their potential is unlimited.
"Answers to the world's biggest issues, such as our climate or economics, lie within the next generation and it's up to us to not waste human potential," Susana says. "I love the kids we serve and when love is the motivation, there are powerful forces at work that make the impossible become the inevitable. We give our children and youth the tools they need to succeed, which cultivates and spreads hope. I'm honored to be a steward of our children's stories and to be part of the movement to end poverty for them."
Personal: Susana came to the United States as a foreign-exchange student as a senior in high school. She met her husband, Tim, in college. They have three children: James, Elton and Lucia. Besides spending time with her family, she loves being outdoors — especially at the ocean and mountains.