"The Globetrotter"
Jack McCanna
Senior Advisor – Global Initiatives and Support
Known for: Leading global staff at Children International (CI) who change children's lives. Jack's focus is ensuring children are healthy, educated, empowered and eventually employed. These four key outcomes are all interconnected and essential to achieving our vision: Bringing people together to end poverty for good.
Path to CI: Ironically, Jack's first job after graduating was as a field representative for CI. He went on to work for the Diocese of Rumbek in Sudan, USAID in Nairobi, then Pact in Zambia and Namibia. All these organizations also fight global poverty. He moved back to the United States to be the executive director at the YMCA in Geneva, New York, before returning to CI. Jack holds a bachelor's degree in history from Marquette University and an MBA from the Thunderbird School of Global Management.
On CI values: Our value "live the mission" value clearly resonates with Jack. "It drives everything we do — including how we lead and what inspires us — to ultimately impact the lives of the children we serve," he says. "Working together, we build healthy environments and safe spaces for our kids to thrive, and empower them to create lasting change. That's pretty powerful."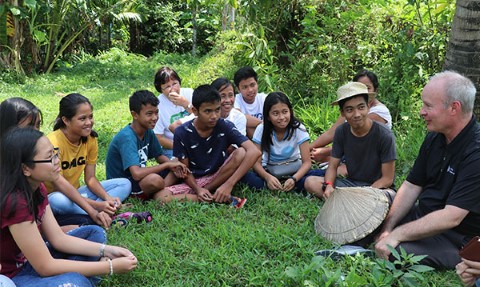 Passion: Jack has traveled the world. From working on democracy in different countries, to being an ambulance driver in war zones in Africa, he has seen it all. By living among people of all backgrounds, he quickly realized we all see the world differently.
"Considering the perspectives of others is critical to truly understand the community's needs and how we can best be of service," Jack says. "In countries where we work, our approach is long-term. Change doesn't happen overnight. It's steady and persistent growth. When we partner with parents and neighborhoods to impact children's lives, the difference is incredible. Kids need love to find hope. Along with their families, we provide that support for our kids from a young age through adulthood, which is unique for a nonprofit like ours."
Personal: Jack comes from down-to-earth Wisconsin/Green Bay Packer roots and a large family, including six siblings. He met his wife, Margaret, while working at a hospital in a remote area of Kenya. She was a nurse and he was a lay missionary there, coordinating relief flights and ambulance runs while also being the hospital administrator. They have four children: Mary K, David, Joey and Nathan.